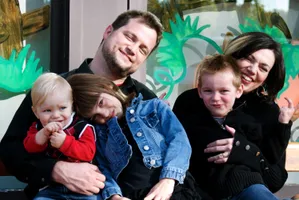 Have you been looking for a chiropractor in BIRMINGHAM? Unlike conventional medicine, which focuses on attempting to treat symptoms once they occur, the specific chiropractic care at Johns Family Chiropractic in BIRMINGHAM offers something completely different. We offer a BOLD perspective on health and the loss of health, which we commonly call disease. This perspective is based on SCIENCE and 117 years of RESULTS. It's also based on Dr. Robert's personal experience across more than three generations.
Have you ever wondered why the "backbone" of every single thing seems to be the most important part, unless we're talking about the human body? Your spine is not just a bunch of bones. It acts as a single functional organ made up of bones, muscles, ligaments, and most importantly, nerves which unite the body in active organization.
An improperly aligned & poorly functioning spine can interfere with the active organization between the brain and the body. This interference, called vertebral subluxation, disturbs normal function, robbing you and your family of health & quality of life.
This can happen with or without pain.
Our mission is to SAVE LIVES by helping people raise healthy, non-medicated families. We do this through education, information, and the correction of subluxation. Results are the reason that chiropractic has become so popular, both here in BIRMINGHAM and around the world.
If you have been suffering near BIRMINGHAM, don't wait another second to begin your road to recovery! At Johns Family Chiropractic, our chiropractic approach can assist patients with the rediscovery of health and wellness that had been previously known but long lost. For others, the chiropractic journey may offer a new sense of balance and wellness that one has never before experienced. If you want to start achieving greater health every day, call us at (205) 677-8341 to schedule an appointment!

People around the world are recognizing the benefit of seeking an alternative to traditional medicine; one that will help them achieve and maintain optimal health without requiring invasive treatments such as surgery. Please take the time to meet the chiropractor and our network of professionals dedicated to helping you achieve your wellness objectives. To fully understand the nature of your health, we recommend that you join our free website membership program. As a patient at Johns Family Chiropractic we will personally tailor a chiropractic and wellness program specifically targeted to your needs.